Natural Stone -
Sandstone
Sandstone is a sedimentary rock composed mainly of compacted sand and minerals. It is currently our most popular natural stone finish. Sandstone varies in colour from white to peach based on the presence of other minerals. It is relatively soft, porous and easy to quarry.
Suitability: Suitable for interior and exterior in residential situations such as floor and wall tiles, but more often outdoors in steps, entrance ways, foyers, terraces and patios, paving, swimming pool surrounds and feature walls.
Considerations: Sandstone is relatively consistent colour and texture with some veining evident; like all sandstone's it is relatively soft and porous, susceptible to staining if not sealed. 
Sealing of stone highly recommended.
Stock sizes:
Tile:
600x600x15 / 600x400x15 / 400x400x15
Copings (Bullnose or Square Edge available):
400x200x40 / 400x260x40 / 400x300x40 /400x400x40 / 400x400x40/20 / 600x300x40 / 600x400x40 / 600x600x40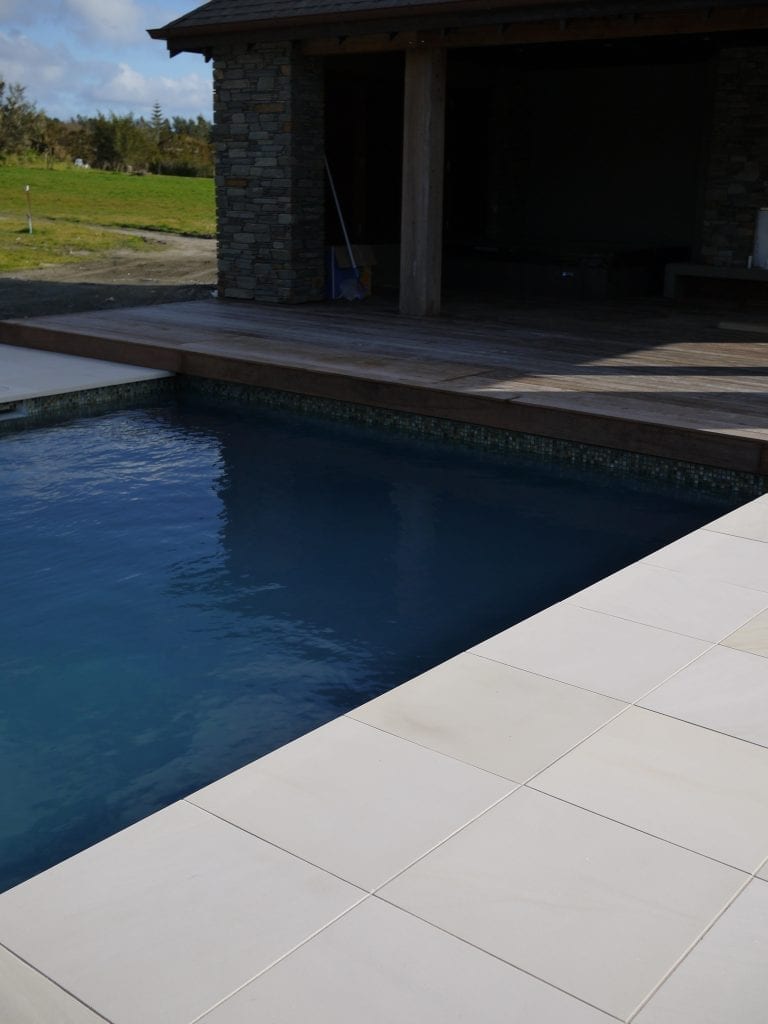 Our options for your
Sandstone Design
Let us help transform your dreams & ideas
Available Finishes
Honed

Natural Split

Sandblasted
Stock Sizes
Tiles
400 x 400 x 15
600 x 400 x 15
600 x 600 x 15
Copings (Arissed & Bullnose Available)
400 x 200 x 38
400 x 260 x 38
400 x 300 x 38
600 x 300 x 38
600 x 400 x 38
600 x 600 x 38
Custom tile sizes, finishes and copings available upon request (Please allow 8-12 weeks for delivery)
Recommended Sealer
Pristine: is our state of the art solvent based penetrating natural sealer, ideal for hard to keep clean porous surfaces. Available in 4, 10, 20, 200 litre containers, 8-12sqm coverage per litre. Minimum of 3x coats required. 

Consolidate: Solvent Based - Impregnating sealer, a must have for salt-chlorinated pools.
Why You Need To
Choose SSL
?
With over 30+ years of experience supplying the New Zealand and Australasian markets with natural stone products. Our knowledge and product supply is second to none. We will help you create the perfect result, whether your project is big or small. Call us today (09) 415 4588
Like this stone? What's next?