Natural Stone -
Travertine
Travertine is a rather dense, banded limestone, sometimes moderately porous, that is formed either by evaporation about springs, as is tufa, or in caves, as stalactites, stalagmites, or dripstone. Where Travertine or Tufa (calcareous sinter) is deposited by hot springs, it may be the result of the loss of carbon dioxide from the waters as pressure is released upon emerging at the surface; the release of carbon dioxide lowers the solubility of calcium carbonate and it precipitates.

High rates of evaporation in hot-spring pools also lead to supersaturation which helps form Travertine. Travertine formed in caves is simply the result of complete evaporation of waters containing mainly calcium carbonate.
Suitability: Suitable for interior and exterior use in residential situations such as floor and wall tiles, stairs foyers, entrance ways, bathrooms, living areas and feature walls
Sealing of stone highly recommended.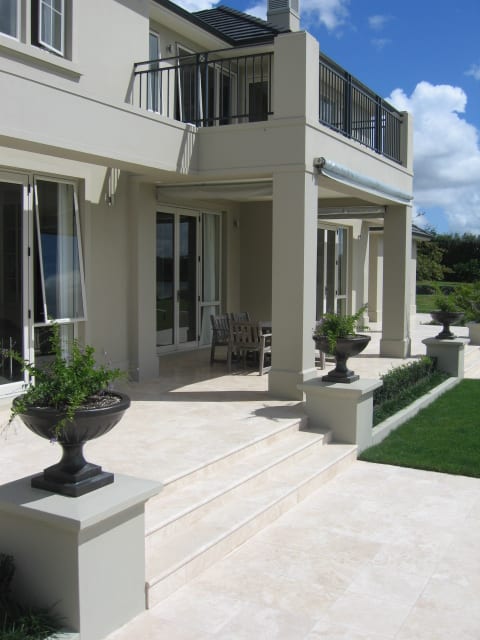 Our options for your
Travertine Design
Let us help transform your dreams & ideas
Available Finishes
Honed & Filled

Polished & Filled
Vein Cut
Stock Sizes
Tiles
410 x 410 x 12
610 x 406 x 12
610 x 610 x 12
812 x 406 x 15
Copings (Arissed & Bullnose Available)
406 x 305 x 40
457 x 305 x 40
610 x 406 x 40
610 x 610 x 40
Custom tile sizes, finishes and copings available upon request (Please allow 8-12 weeks for delivery)
Recommended Sealer
Pristine: is our state of the art solvent based penetrating natural sealer, ideal for hard to keep clean porous surfaces. Available in 4, 10, 20, 200 litre containers, 8-12sqm coverage per litre. Minimum of 3x coats required. 

Consolidate: Solvent Based - Impregnating sealer, a must have for salt-chlorinated pools.
With over 30+ years of experience supplying the New Zealand and Australasian markets with natural stone products. Our knowledge and product supply is second to none. We will help you create the perfect result, whether your project is big or small. Call us today (09) 415 4588
Like this stone? What's next?